Jack Vazquez, recipient of the 2013 NATA's General Aviation Service Technician Award

A huge achievement for our Director of Maintenance, Jack Vazquez. With over 35 years in aviation maintenance experience, Jack goes above and beyond for our customers! Jack said he's honored to have been recognized both for his hard work and for his contributions to improving aircraft safety, but insists on sharing the recognition.
To read more about Jack's award, click here.
2013 Small Business of the Year Award Nominee


Seattle Business Magazine Awards!
Bergstrom Aircraft was recently recognized as one of the Best Companies to Work for  Washington State!
FAA recognizes Karl Bergstrom for 50 years of dedicated service to Aviation with the Charles Taylor Award

Karl gets awarded the Prestigious Charles Taylor Award for 50 years of service to Aviation, and is quite an achievement that Karl's name will be recorded in the Smithsonian. Congrats Karl!

DOE Presents Award of Excellence to Karl Bergstrom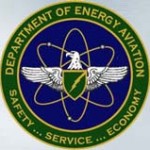 Mr. Bob Hannigan, Chief Pilot for Pacific Northwest National Lab (PNNL) presented Karl Bergstrom an Award of Excellence from the Department of Energy (DOE). This award recognizes over fifteen years of accident-free maintenance activities performed by Bergstrom Aircraft. The award is signed by Mr. Robert G. Jenkins, Director, Office of Aviation Management.

Bergstrom Aircraft Awarded "Aviation Safety Excellence Award" by Phoenix Aviation Managers
Bergstrom Aircraft, Inc. has been awarded the Aviation Safety Excellence Award from Phoenix Aviation Managers.  This award recognizes Bergstrom Aircraft for its outstanding safety record and continuing commitment to safely provide the best service to all customers and protect our employees.   Phoenix Aviation Managers conducts numerous safety audits annually, but only a few select FBOs are recognized for their excellence.  Malin Bergstrom accepted the award on behalf of all the staff at Bergstrom's.  "Aviation safety is first and foremost in everything we do.  Our company was founded on this principle by Karl Bergstrom in 1971 and we work hard everyday to uphold this tradition of safety and excellence.  It's with great honor that we accept this award"
GEM Award Winners!
Congratulation to Cassie, Tim and Amber!
We are so proud of our team at Bergstrom's!  Because of their outstanding customer service, they have been selected by our customers as the ExxonMobil GEM Award recipients.  This nationwide program allows pilots, flight crew, and dispatchers to cast ballots highlighting the FBO employees that provide exceptional customer service.
AVweb FBO of the Week
AVweb's "FBO of the Week" ribbon goes to Bergstrom Aircraft at KPSC in Pasco, Wash.
AVweb reader Richard Ciccone says the FBO blends old-fashioned service with modern facilities.
"It's easy to see why Bergstom Aircraft has been Central Washington's foremost full service FBO for 35 years. They offer a highly regarded maintenance facility, as well as efficient and friendly office and line staff that supports an extended and loyal customer base. A consistent population of primary and advanced students is also supported by a dedicated staff of professionals in a very modern facility. This family's strong commitment the aviation community is reflected in everything they do, everyday."
FBO of the Year
Bergstrom Aircraft was awarded "FBO of the Year" by the Washington State Dept. of Aviation.